Till 30th April Night curfew been imposed in Delhi from 10 PM to 5 AM
06-04-2021 12:43:35
By :
Twinkle Singh
---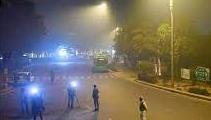 ---
A proposal to bring back night curfew in Delhi to stem the tide of the Corona virus has been sent to Chief Minister Arvind Kejriwal's office by top officials of the city's administration.
Delhi will start a 10 pm to 5 am night curfew from now till April 30, the city government said today, staring at a steep rise in Covid cases.
This is the toughest order by the Delhi government since the start of a fresh surge in coronavirus infections in the capital last month.
Chief Minister Arvind Kejriwal had on Friday said Delhi was going through the fourth wave of COVID-19 but a lockdown was not being considered yet.
As per the current situation, we are not considering imposing a lockdown. We are closely monitoring the situation and such a decision will only be taken after due public consultation," he had told reporters.
On Monday, Delhi recorded 3,548 fresh cases and 15 deaths.
Delhi Health Minister Satyendar Jain said as the city is reeling under the fourth wave of the coronavirus pandemic, testing capacity has been ramped up and micro-containment zones being set up in areas where two or more cases are getting reported.
---