35 killed in the most devastating storm in Japan after decades, Indian Navy sends two warships
14-10-2019 12:21:10
By :
Shrishti Nagar
---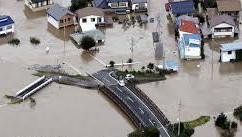 At least 35 people have been killed and 16 are missing since the fierce storm 'Hegibis' in other parts of the country, including Japan's capital Tokyo. A massive rescue operation was launched on Sunday to rescue those stranded due to heavy rains.
The mighty Hurricane Hegbis knocked on the Iju peninsula in the southwest from 7 pm on Saturday. Meanwhile, the Indian Navy has sent two warships to help Japan. INS Shahayadri and INS Kiltan will provide assistance in heavy rain and flood affected areas.
After the storm came, large parts of the country received heavy rainfall, causing flooding and several incidents of landslides. It has moved north after Hurricane Tokyo. According to the report, at least 35 people have died in this typhoon. 16 people are missing and more than 100 are injured. The number of people affected by hegibis is increasing.
31 thousand soldiers and one lakh rescuers are engaged for the relief work overnight and are taking the stranded people to safe places by helicopter. Yasuhiro Yamaguchi, a Nagano city emergency service officer, said that overnight we issued orders to evacuate 427 houses and evacuate 1,417 people.
He said that it is not clear how many houses have been affected. Officials warned that the risk of landslides still remains. The administration has advised more than 73 lakh people to move to a safe place.
Light was cut to 376,000 homes
Before the arrival of the storm, there was heavy rain due to its impact. Two matches of the Rugby World Cup have also been canceled.
The Japanese Grand Prix was delayed due to the storm and more than 800 flights were canceled due to heavy rains and also affected rail traffic. JMA Meteorological Officer Yasushi Kajivara told the media that cities, towns and villages have been witnessing unprecedented torrential rains, due to which warnings have been issued.
According to the local news agency Kyodo, the Akiyama river floods in Sano in Toshigi province submerged the residential areas and rescue teams are evacuating the local people.
Landslide came after storm
After the devastation in Japan due to Hurricane Hegbis, the relief and rescue teams of Japan have issued work to rescue those trapped in the landslide. The power of thousands of homes in Japan has been lost due to Hagibis. At the same time, the department has informed that the possibility of landslide has increased due to rain in the areas affected by the storm on Monday.
Due to the storm, dirty water has started flowing in the streets, fields and residential areas. Flood conditions persist at many places, with houses and surrounding roads filled with mud.
---