AYUSH Kavach App' rolls out another new feature for effective home-based Covid treatment in UP
04-05-2021 17:55:56
By :
Twinkle Singh
---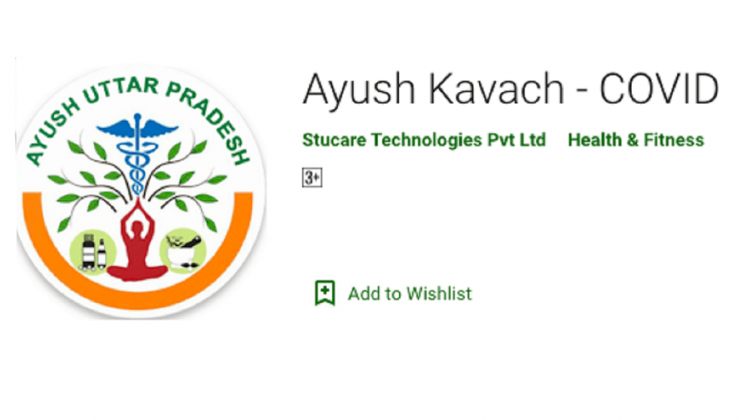 ---
In a bid to provide maximum benefits of the ancient and traditional health systems like Ayurveda which are not only affordable, accessible but also help in increasing body's disease resistance capacity, the Ayush Department of Uttar Pradesh has rolled out a new feature on the 'AYUSH Kavach App' which enables the citizens to access medical treatment which is locally and easily available.
The Ayush Department has prepared a pragmatic plan for promotion of Ayurveda in treatment of Covid-19. In its new feature, the app recommends easily and locally available medicinal treatment, keeping in mind the comfort of the people, the lockdown and the social distancing norms.
For example, Eucalyptus is widely grown and is available in abundant quantities in West Uttar Pradesh, whereas, Mahua flowers are largely grown in the Bundelkhand region, the feature emphasises on educating people about the benefits and importance of the natural resources available in their respective regions and informs about their use in developing a strong and healthy shield against the coronavirus. This feature is being widely appreciated by the citizens and is playing a vital role in recovery of patients in home isolation.
Ayurvedic medicines have time and again proved to be a boon for the entire population and Uttar Pradesh CM Yogi Adityanath has always been an ardent advocate of Ayurveda and has continuously stressed on its effectiveness and importance.
To help people access prescriptions to strengthen their resistance through ancient mode of Yoga and Ayurveda, CM Yogi had launched the 'AYUSH Kavach App', an initiative of AYUSH Department Government of Uttar Pradesh, which has emerged as a blessing in times like these where the entire country is stuck at home and is struggling with health vulnerability.
Dr Ashok of the Department of AYUSH explains on Tuesday that according to the geographical location of eastern Uttar Pradesh, there is abundant availability of rice molasses, which gives a lot of strength to the body. One must consume it by boiling the rice by adding water by eight times, and adding roasted cumin and rock salt to it, as this way will help in increasing the body's disease-resistance capacity. Similarly, there are immunity-boosting properties in spinach, Chaulai and black-eyed beans (lobia). One must consume them with asafoetida (heeng) to get the benefits.
There is a sufficient availability and production of Eucalyptus in the western Uttar Pradesh, which can not only treat cough, but also helps in getting the mucus out of the chest. One must boil its leaves and inhale it twice a day to get the required benefits. Apart from this, Jawarankush (green tea) is also found in this region. One must boil 2-3 leaves of green tea in four cups of water and when one cup is left, it should be consumed. Apart from this, Churned milk or buttermilk is also produced here which helps in bringing down the cholesterol levels, blood pressure levels and improves bones and oral health.
Mahua flowers, which are a great source of boosting immunity and nutrition are found in abundant quantities in this region. One must boil 20 to 30 Mahua flowers in water and milk and consume them. Besides, 'sattu', which is also found in adequate amounts in this region also helps in increasing the disease-resistance capacity and flushes the toxins out of the body. One must consume it with kala namak, gud and chickpea. With this, roasting Petha in ghee and consuming it will also increase the immunity.
Fenugreek (Methi) and Khurasani Ajwain are majorly found here, which are immunity boosters and also major relievers of any kind of body pain. One must grind fenugreek and ajwain seeds and take it twice a day with lukewarm water. Turmeric is anti-allergic, fry its powder in ghee and take half a spoonful of it twice a day with lukewarm water. Raw mango reduces digestive power and dehydrates the body. To consume, one must boil and mash it in water with peppermint, black salt, roasted cumin seeds.
---