Cyclone Tauktae may intensify by evening, NDRF teams deployed in 5 states
15-05-2021 13:58:36
By :
Twinkle Singh
---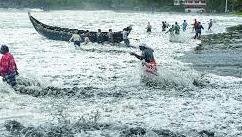 ---
Cyclone Tauktae is likely to intensify into a "severe cyclonic storm" within 12 hours and hit Gujarat coast by Tuesday, the Indian Meteorological Department has said.
It is expected to cross Gujarat coast between Porbandar and Naliya on Tuesday afternoon, it added.
As per the latest input from IMD, the cyclone Tauktae currently lying over eastcentral and adjoining southeast Arabian Sea, moved north-northwestwards at speed of about 11 kmph during past six hours and lay centred at 0830 hrs IST of today, over eastcentral and adjoining southeast Arabian Sea near latitude 12.8°N and longitude 72.5°E, about 190 km north-northwest of Amini Divi,330 km south-southwest of Panjim-Goa, 930 km south-southeast of Veraval (Gujarat) and 1020 km south-southeast of Karachi (Pakistan).
"It is very likely to intensify further into a 'Severe Cyclonic Storm' during next six hours and into a 'Very Severe Cyclonic Storm' during the subsequent 12 hours. It is very likely to move north northwestwards and cross Gujarat coast between Porbandar and Naliya around May 18 afternoon/evening", the IMD said.
The national weather department further said that Gujarat and Diu coasts have been kept under a cyclone watch. This is the first cyclonic storm this year as the country has been reeling under a deadly second wave of Covid 19 since last two months.
Over 50 teams of the National Disaster Response Force (NDRF) have been deployed in five states - Kerala, Karnataka, Tamil Nadu, Gujarat and Maharashtra for evacuation, relief and rescue operation. The respective states have also stationed the SDRF teams at coastal parts in states.
Red and orange alerts have been sounded in various parts. Low-lying areas of the Islands of Lakshadweep are likely to get flooded.
Fishermen have been asked not to venture in to Arabian Sea till Tuesday whereas tourism activities have been restricted and necessary precautions have been advised for naval operations in anticipation of rough sea.
Very heavy to extremely heavy rainfall may cause flash floods and landslides over the coastal districts of Kerala, Karnataka and Goa till Sunday and Saurashtra, Kutch in Gujarat on Tuesday and Wednesday is expected, the IMD has said.
The Indian Navy and Indian Coast Guard teams have also been put on alert.
Prime Minister Narendra Modi will hold a review meet this evening to access the situation with the Ministries concerned.
---