Delhi govt misleading on ONORC scheme, Centre to SC
15-06-2021 16:23:52
By :
Twinkle Singh
---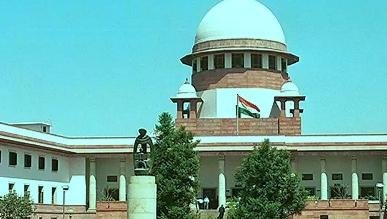 ---
The Centre has told the Supreme Court that 'One Nation One Ration Card' (ONORC) scheme makes food security portable and is tailor-made for migrant labourers, stating the Delhi government is "misleading" the apex court on the scheme as it has not fully implemented the scheme in the national capital.
"The ONORC was to ensure that migrant workers and their families got assured access to nutrition via national portability of ration cards under the Food Security Act," the Central Government said in its submission.
However, the AAP government has implemented one nation-one ration card plan only in circle 63 Seemapuri, it said, adding large number of inter-state migrants in the capital city do not have access to their NFSA foodgrains as being away from their own villages/hometowns, they are not able to take the benefit of their quota of subsidised foodgrains as there is no full implementation of ONORC.
The Centre had also asked the Aam Aadmi Party (AAP) government to resume the ePoS devices at all fair price shops in Delhi.
According to the AAP govt, it has provided food grains to over 4.5 lakh people who did not have ration card under a new scheme in the city. Starting from June 5, the scheme allows those who don't have a ration card to avail five kilogram of food grains by showing their Aadhaar card.
Earlier, the top court had directed the states and union territories to implement the scheme.
The One Nation, One Ration Card programme is a national platform that digitises ration cards, details of beneficiaries, monthly quota of ration under the National Food Security Act (NFSA), 2013, and allows withdrawals through electronic point of sale machines, thereby allowing the mobility of ration benefits.
India provides cheap foodgrains to nearly 800 million beneficiaries across the country under the NFSA 2013. But, only 23 crore ration cards have been issued in all the states and Union Territories of the country, as per records.
---