Delhi: Nearly 21 thousand children received first dose of their Covid vaccination
04-01-2022 11:12:55
By :

Notice: Trying to get property 'fName' of non-object in /home/newobserverdawn/public_html/module/Application/view/application/index/news.phtml on line 23

Notice: Trying to get property 'lName' of non-object in /home/newobserverdawn/public_html/module/Application/view/application/index/news.phtml on line 23

---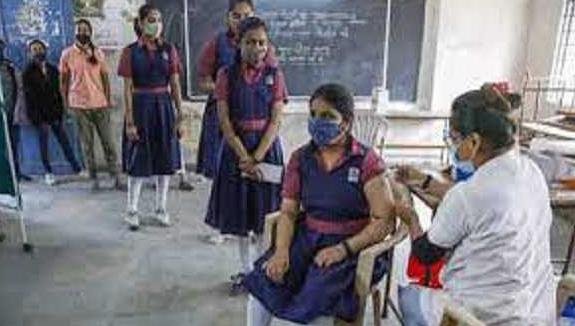 ---
Around 21 thousand children between 15-17 years in the national capital were vaccinated against Covid-19 on the launch day of the nationwide pediatric Covid vaccination drive, the Delhi government said.
On Monday, the maximum turnout was recorded from the North East district where as many as 3,698 teenagers got their first shot of the Covid-19 vaccine, followed by East Delhi (2,268) and New Delhi (2,034) according to the government document.
The lowest vaccination of this cohort was recorded in Central Delhi where only 739 children came for the vaccination.
However, the hospitals said that the turnout was decent and expect to increase in the coming days.
Prof (Dr) Neelam Roy, Nodal Vaccination Officer at Centre-run Ram Manohar Lohia (RML) Hospital told UNI that 92 children turned up at the hospital for the vaccination.
"While a few who had made prior bookings through Co-WIN didn't come, the footfall was still decent," she said.
Roy also said that the recipients were an equal mix of those who came in advance booking and those who walked in to get the shot.
Dr Partha Sarathi Goswami, Head-Medical Services, Manipal Hospitals informed that 80 children have received vaccine doses at his facility today.
"On the first day of the vaccination drive, 80 number of children were vaccinated at Manipal Hospital, Dwarka today and are expecting these numbers to increase over this week. With enough vaccines in reserve, we have the capacity to vaccinate 300 children every day," he said.
Indraprastha Apollo Hospital also informed UNI that 80 children received the vaccination against Covid-19 at its facility.
The hospitals also said that almost no event of adverse reaction was reported.
"None of the children who vaccinated at our facility reported Adverse Event Following Immunization (AEFI), not even minor," Roy told UNI.
Goswami also said that no adverse reactions were observed in the teenagers vaccinated at Manipal.
According to Co-WIN, 37.84 lakh teenagers received their first dose of Covid-19 vaccination in the country.
The nationwide Covid-19 vaccination for children was rolled out today inoculating those between 15 and 17 years of age. The Centre has approved Bharat Biotech's Covaxin for this cohort.
---