India-UAE Business Conclave -2021 boosts India-UAE ties
12-04-2021 18:07:33
By :
Shrishti Nagar
---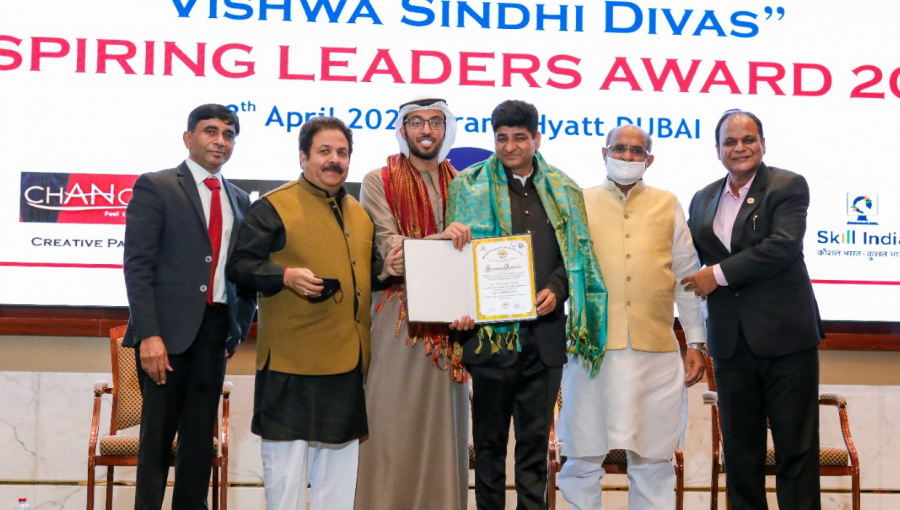 ---
New Delhi: Sindhi community of Dubai celebrated Vishwa Sindhi Divas on 8th April 2021 at Grand Hyatt, Dubai. On this occasion India-UAE Business Conclave -2021 was organized to promote and develop India as a hub for manufacturing, design and innovation and also to bring investments, foster innovation, enhance skill development, protect intellectual property and build best-in-class production in all segment.

In a move to strengthen the trade and bilateral ties between India and UAE, Chander Shaikhar Bhatia and Nilesh Jain organized India-UAE Business Conclave and Inspiring Leaders Awards -2021. Business tycoons and eminent personalities from both countries took part in the award show.

His Highness Sheikh Obaid Bin Suhail Bin Butti Al Maktoum from the royal family of Dubai, UAE was the Guest of Honor. Janata Dal-United general secretary, Former MP Shri KC Tyagi was the Chief Guest in this event, and Special Guest was former Union Minister and BCCI Vice President Rajeev Shukla. The list of significant prominent guests included Author and Senior Journalist Dr. Hariom Tyagi, State Secretary International Vaish Federation Dr. Sanjeev Bansal and HE Dr. Bu Abdulla.

Prominent invitees from India and Dubai attended this conference. On this occasion, chief Guest Shri KC Tyagi said, Dubai is a Mini India, and we have a delightful relation with Dubai UAE. Guest of Honor Shri Rajeev Shukla said that the Sindhi community contributes eminently to the growth of Dubai. Business Conclave strives to create a business-friendly environment that could propel the much-needed growth in India.

The Inspiring Leaders Awards -2021 were bestowed to renowned personalities. Followed by the award ceremony, Dr. Hariom Tyagi's Book, "Hari-Prem" was launched. The Inspiring Leaders Awards -2021 were awarded to prominent personalities and organisations namely Kamal Vachhani, Hemchand Bhatia, Naresh Kumar Bhawnani, Dilip Kumar Bhawnani, Paras Shahdadpuri, Shyam Bhatia, Ashok Odarani, Dr Dinesh Kothari, Dr G R Mehta, Suresh Galani, Krishina Temple, Gurudarbar Sindhi Temple, Dr Haresh Kumar Mulani, Dr Rizwan N Adatia, Mr Rupchand Shewakramani, Mubashshir W Usmani, Khemchand Bhagnani, Khalid Shihab Saleh Al Shahab, Ram Pancholiya, Dr Prateek Suri, Dr Deva Solanki, Prem Panjabi, Dr Nilesh Jain, Dr Sunil Manjarekar, Dr. Vani B Rao, Dr. Sanjeev Bansal, Darsh Malani, Anjali Ramachandra and Ashok Sawalani.
---