MEA Blames China for Hindering 'Traditional Patrol' across LAC
26-06-2020 16:33:24
By :
Pravin Mishra
---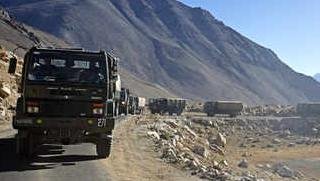 The Ministry of External Affairs, Government of India, has said the stopping of India's normal, traditional patrolling pattern in the Galwan Valley area by Chinese troops led to a tense situation across the Line of Actual Control. The entire situation has however caused huge deterioration in bilateral relation between the two countries.
The MEA spokesperson, Anurag Srivastava said, "The Chinese authorities had in May early attempted to hinder India's normal, traditional patrolling pattern near Galwan Valley area". On May 5, there was violence at Galwan Valley between Indian and Chinese troops which was widely reported. Clashes happened in Pangong Lake but the situation was brought under control. Srivastava said, "The resulting face-off was addressed by the ground commanders as per the provisions of the bilateral agreements and protocols. But then China started tension across the Line of Actual Control (LAC)".
In mid-May, China sought to change the status quo in other areas of the western sector. In response, India, in recent days, has made position clear on the unfolding developments in the region. On June 20, India had provided the relevant facts and clearly established it has been the "Chinese actions thus far which have led to increase in tension in the region and also to the violent face-off of June 15 with casualties". The MEA has stated that New Delhi had registered protest against Beijing's actions through both diplomatic and military channels, and made it clear that "any such change was unacceptable".
Subsequently, senior commanders from both sides met on June 6 and agreed on a process for de-escalation and disengagement along the LAC that involved reciprocal actions. Both sides had agreed to respect and abide by the LAC and not undertake any activity to alter the status quo. The Chinese side, however, departed from these understandings in respect of the LAC in the Galwan Valley area and sought to erect structures just across the LAC.
When this attempt was foiled, Chinese troops took violent action on June 15 that directly resulted in casualties, leaving 20 Indian soldiers dead. Thereafter, both sides remain deployed in large numbers in the region, while military and diplomatic contacts are continuing. It was found that since early May, the Chinese side has been "amassing a large contingent of troops and armaments along the LAC", Srivastava said, adding that this is not in accordance with the provisions of various bilateral agreements, especially the key 1993 Agreement on the Maintenance of Peace and Tranquility along the LAC.
---