NARSI Group makes World's Biggest Wooden Door
16-03-2022 17:17:57
By :
Hariom Tyagi
---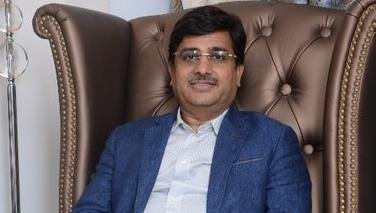 Mumbai: A wooden door innovated, developed, and designed by the NARSI Group headquartered in Mumbai, India, has successfully cleared the fire resistance test conducted by the fire research laboratory of the CSIR-Central Building Research Institute (Roorkee), responsible for promoting building science in the country since 1947.
The CSIR-CBRI conducts research and development with the aim to assist building construction and building material industries in finding timely, appropriate and economical solutions to the problems of building materials, health monitoring and rehabilitation of structures, disaster mitigation, fire safety, Energy-efficient rural and urban housing. It also maintains linkages at the international and national levels.
Its fire engineering laboratory is equipped with state-of-the-art facilities for conducting research related to fire retardant, resistance, detection, extinction, limitation, modelling and escape with special reference to building and industrial sectors.
The fire resistance test was conducted on March 14, 2022, respecting British and Indian safety standards (Fire Exposure as per BS 476 (Part 20 & 22) - 1987, IS: 3614 (Part-2)-1992) with insulation, integrity and stability as testing criteria. The test ran for 121 minutes, at the end of which the NARSI Group wooden door – a double-leaf door having a shutter thickness of 75 mm - became the only Indian product in the category to have cleared all the criteria for the test.
The solid results achieved by the NARSI Group will promote higher standards of fire safety across the building materials and infrastructure industry. The research and innovation undertaken will benefit the building materials industry by making such technology more accessible and affordable for Indian customers.
Speaking of the momentous achievement,

Mr.

Jagdish Kularia, Director of NARSI Group said,

"We are elated because this was our third attempt at the fire resistance test. Despite being extremely confident about clearing it this time after having learned from our past two experiences, it is a globally significant achievement that we are very proud of. We savour this moment, especially because despite facing challenges, we did not compromise on the thickness of the door. Ensuring such high-quality that makes NARSI offerings unique in the whole country."
Adding to the excitement, Mr. Narsi Kularia, Founder, NARSI Group said, "I thank our brilliant team of skilled carpenters and experts who committed to a highly demanding and diligent process of research and innovation. Every iteration and each failure only served to push them towards achieving their goal as a team. This enthusiasm and passion for creating the best and safest fit-out options for our customers is the common thread of motivation for us all at the NARSI Group."
Speaking of the wooden door itself,

Mr. Kularia

added, "From using the wooden fire doors for prestigious projects currently we are working to take these into retail distribution by making them available in different sizes. This product is an outcome of taking fire safety very seriously as a manufacturer and a solutions provider. Through it, we aim to broad-base our contribution to fire safety across the Indian infrastructure development landscape overall."
---