Over 70 craftsmen showcase 'Sarees' artwork at Silk India Exhibition in Jammu
18-02-2020 12:47:54
By :
Shrishti Nagar
---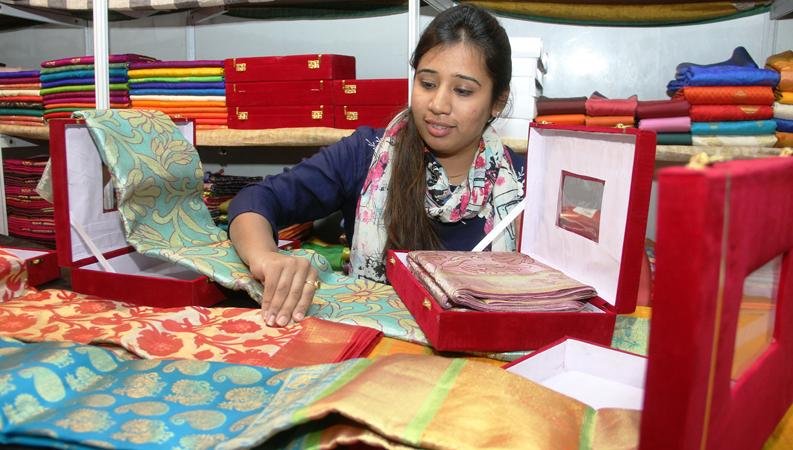 ---
More than 70 craftsmen from different parts of the country are showcasing their artwork on 'Sarees' at ongoing 'Silk India Exhibition' here at Kala Kendra.
The special Silk 'silver jari Sarees' are being displayed in beautiful jewellery boxes. Organiser of the exhibition, T Abhinand said, "motive of the event is to provide a platform to the craftsman of the country to display their art work from time to time".
Ajit Sharma who came from Calcutta brought with him his art work on Kerala Cotton Sarees displaying cultural aspects of Kerala and rural India.
Similarly, Santosh Singh from Banaras brought with him Hand Painting Dress Materials. By his hand made drawing he displayed camels and faces of Lord Krishna and Buddha.
Rana Kanjivaram from Kanchipuram brought with him Real Silver 'Jari Sarees' displayed in attractive Jewellery boxes.
He informed that it takes six months to complete one Saree and entire family is involved in finalizing its beautification.
He said that price of one such Saree is Rs 180000. The exhibition will be there till Feb 23.
---