Paytm's Mobile Gaming App Strikes Deal With ESPL
22-01-2021 13:01:50
By :
Twinkle Singh
---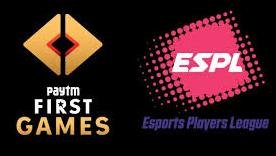 ---
The gaming app, Paytm First Games (PFG), announced that they have agreed with the Esports Players League (ESPL) to form a partnership in regards to organizing mobile tournaments in India. ESPL is a Singapore-based global grassroots esports platform that aims to provide amateur gamers with a viable career path to pro gaming. Formed in 2019, the organization implements a hybrid online and on-ground tournament model and has a footprint in sixteen countries across Asia, Europe, and America.
PFG is India's fastest growing gaming destination, and it has more than half a million active users per day that spend, on average, forty-five minutes per gaming session. The partnership entails that ESPL will enable mobile tournaments in India. It will eventually cover all Esports platforms, but the initial tournament launch will focus on mobile gaming.
Sudhanshu Gupta, Chief operating officer of PFG, said in a statement – "Esports was already growing fast in India. However, the current pandemic has added fuel to the fire. We saw an opportunity for a major player to come in and create a vast Esports ecosystem." Michael Broda, ESPL's CEO, added that due to the immense number of mobile gamers in India, and with the rollout of 5G, the country is naturally a massive target for all Esports tournament organizers. At present, six other tournament platforms are operating in the Indian Esports industry.
Mobile Online Casinos Sponsor Mumbai City
While Esports is all the rage and the talk of 2020, online gambling is still fidgeting in legal limbo as lawmakers refuse to follow global trends. Though, nothing is stopping Indians from playing at offshore sites, which many do. Online casino India is a trending Google search term, and an ever-growing number of Indians are enjoying games of chance on the internet. The last statement is even more evident as online casino operators have begun sponsoring Indian football clubs, something which is a common practice around the world. Betting sites work with more than half of the Premier League, multiple La Liga teams, and Serie A has announced its intentions to restore gambling sponsors.
When the new season of the Indian Super League kicked off, many were surprised to see that the Mumbai City kit featured the names of two sports websites, DafaNews, and SBOTOP.net. The first is an offshoot of the Philippines-based Dafabet, which advertises itself as Asia's leading betting site, while the latter provides betting predictions and tips on cricket and football. As mentioned, gambling is illegal under Indian law. Since online betting is somewhat of a grey area, these kinds of deals allow a surrogate route for the sponsor to promote online betting brands in India. Mumbai City sent out a press release in which it claimed that – "Mumbai City's partnership with DafaNews is compliant with all regulations."
Multiple Companies Forge Partnership to Enhance E-sports in India
Soon after the PFG and ESPL deal happened, Airtel and NODWIN Gaming announced a partnership to take Indian Esports to the next level by launching the Airtel Esports Tour. NODWIN is an Esports company that brings global tournaments like DreamHack to India, while Bharti Airtel is a leading telecommunications company operating in twenty countries throughout Africa and Asia.
The Airtel Esports Tour aims to cover all NODWIN tournaments across titles such as CS: GO, FIFA, PUBG Mobile, and many others. It will also have the first national Esports ranking system, which will feature point-based standings dependent on year-long performances across all the top tournaments. The deal also plans award shows that will celebrate and reward the best players in the ecosystem. Airtel will stream the tour through its digital platforms and bring this emerging competition format to new audiences.
The E-sports market in India is still very young. However, the pace of growth is rapid. In the past two years, audience figures have doubled, and E-sports startups and companies have reached aggregate revenues of $68 million in 2020. Brands such as Intel, Acer, Red Bull, and Dell have entered the sector, and due to the pandemic, online gaming advertising has surged up to 400%. Thus, we can expect many big-name deals soon as the industry expands.
---