Picture of clash between 'Kisan-Jawan' deeply saddening: Rahul, Priyanka
28-11-2020 12:58:10
By :
Twinkle Singh
---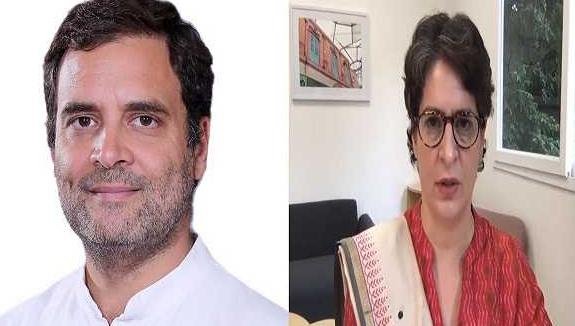 ---
Former Congress president Rahul Gandhi and General Secretary Priyanka Gandhi Vadra on Saturday criticized the use of security forces to stop the agitating farmers heading towards the national capital saying that the government has blown up the slogan of ' Jai Jawan Jai Kisan' by making them stand face to face.
Mr Gandhi, along with his tweet, has shared a photo wherein a security force personnel can be seen waiving a baton about to hit an agitating farmer.
Referring to the photograph, he said that it was deeply saddening to look at a picture where the country's jawan is standing against the country's farmer.
In his tweet Rahul said ' This picture is deeply saddening. Our slogan was ' Jai Jawan Jai Kisan' ,however, today PM's ego has made the jawan stand against the farmer. This is very dangerous.'
Ms Vadra also took to the micro blogging site and said ' When the capitalist friends of BJP arrive in Delhi they are welcomed on a red carpet, however, roads to Delhi are blocked ,dug up for the farmers. When Government makes laws against farmers it is right, but, when farmers head towards Delhi to address their concerns it is wrong ?'
---