The Global Business Conclave 2021 held in Dubai
28-10-2021 15:00:09
By :

Notice: Trying to get property 'fName' of non-object in /home/newobserverdawn/public_html/module/Application/view/application/index/news.phtml on line 23

Notice: Trying to get property 'lName' of non-object in /home/newobserverdawn/public_html/module/Application/view/application/index/news.phtml on line 23

---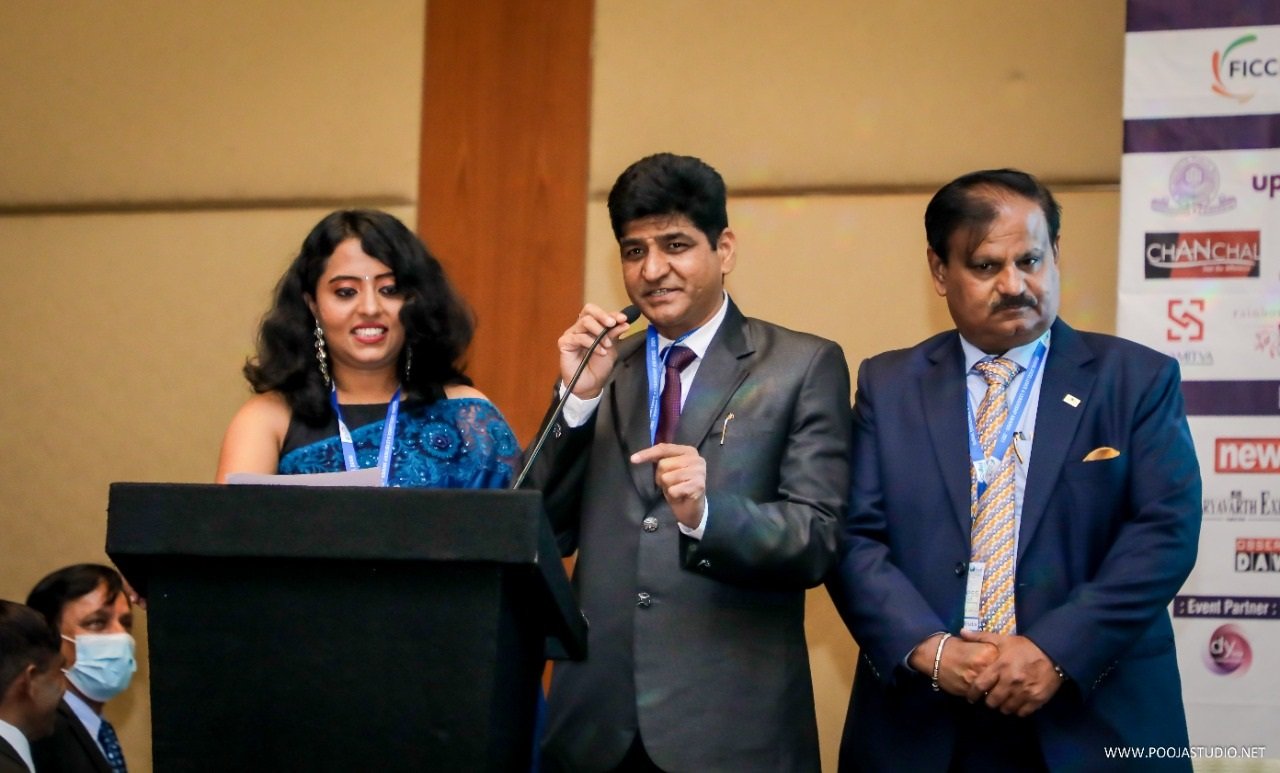 Many Industrialists and Media Persons of the Country in Attendance

Hotel tourism and air trade suffered the most due to the Corona pandemic, but now the situation is improving rapidly. Big events are taking place in the country and abroad and life is once again back on track.
In this scenario, India-UAE Business Conclave-2021 was organized in Dubai on 22 October, in which many businessmen, politicians, media persons from India and Dubai participated.
This business conclave has been organized at Hotel Oberoi, Dubai, in which global awards were also presented. It is believed that after this event, the business relationship will increase between India and Dubai in the fields of pharmaceuticals, dry fruits, garments and other sectors.
The grand event of the Global Business Conclave & Awards-2021 was held on 22 October at the five star Hotel Oberoi in Dubai. The event took place under the patronage of His Highness Sheikh Mohamed Ahmed bin Hamdan bin Mohamed Al Nahyan, who hails from the Royal Family of Abu Dhabi. In which eminent personalities and successful businessmen of the country and abroad were honoured. The Chief Guest in the program was former MP KC Tyagi.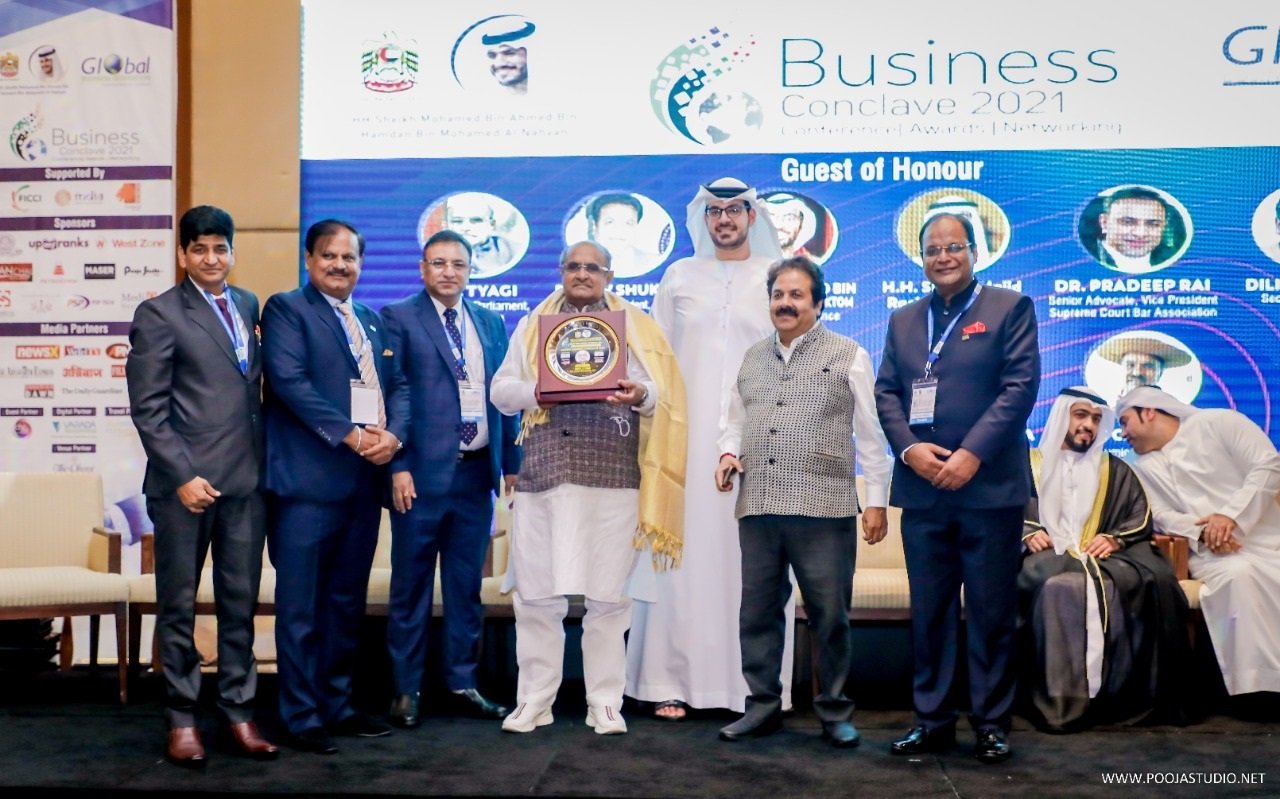 Special guests included former Union Minister Rajiv Shukla, Observer, Dawn Editor-in-Chief Dr Hariom Tyagi, Supreme Court Bar Council Vice President, Dr Pradeep Rai, Umm Al Quwain His Highness Sheikh Majid Rashid Al Mulla, Ahmed Elmetwali, Global Business Federation Chairman Chandrashekhar Bhatia and President Sanjeev Bansal. More than two hundred eminent political, business and policymakers attended this event.
Among the special people whose names were included in the award list, Mayur Bansal got the Entrepreneur of the Award. CA Dr GR Mehta was given the award for Community Service and Information Business. Er Maulana Masood Ur Rehman was awarded the Humanitarian Award of the Year. Richi Bansal was awarded for Business Excellence in Manufacturing of the Year. CA Sahitya K Chaturvedi received the award for Entrepreneurship and Social Service. Abdul Wahab was awarded the Business Personality of the Year. Deva Solanki was awarded the Photography and Cinematography Award. Dr S. Ganesia got the award for social service and Firdous Naseem Qureshi Mohd. Naseem Qureshi also got the award for social service.
Anuradha Vobbilisetty received the award for OutStanding Extra Career Service in Legals to Humanity. Faqar Siddiqui was awarded the Best Trading Company UAE 2021. Harsh Raj Dwivedi received the Educationist of the Year award. Dr Rizwan Adatia was given the award for International Business and Community Service. Mobeshera Shaik & Wahid Shaik were awarded for Most Eco-Friendly Food Packaging Products Company. Nitish Arora and Gagan Neet Kaur were given the award for Best Advertising and Marketing Agency.
In the list of awards, Naresh Bhavani was given the award for International SuperMarket, Real Estate and Community Service. Nilesh Jain received the award for Business Management and Ugadi Purashkar Graheeta was selected for Outstanding Extra Career Service in Legals to Humanity. Som Mandal has been selected for the Most Trusted Name in Legal Service Globally. Dr Ghanshyam Patel was given the award for Investigative Journalism and Social Worker. The leadership Award was given to Sudhir Chauhan. Sumit Arora received the Young Turk of the Year award and Tapas Paul was adjudged Business Excellence of the Year for Software and Blockchain.
Abdul Subhan was adjudged Business Excellence of the Year. Chandu Kumar Agarwal and Rajesh Singh were awarded Social Activists of the year. Dr Prashant Goenka was awarded an emerging journalist award. St. Antony's Public School was awarded Most Innovative School. Samir Tripathi was awarded for Power Management and Consultancy Services. Apart from these, awards were given to many eminent businessmen and distinguished guests.
Many eminent personalities including Former Union Minister and presently Vice President of BCCI Rajeev Shukla, Vice President of Supreme Court Bar Association and Senior Advocate Dr Pradeep Rai, Well known Chartered Accountant Sahitya K Chaturvedi, Social Activist Rajesh Singh, CI of Redancus Limited, UK Dr Renu Raj, Chairman of UAE's BU Abdullah Group, Dr BU Abdullah along with businessmen and several dignitaries attended.
Before the Global Business Conclave 2021 was held in Dubai, Senior Advocate Pradeep Rai, Vice President, Supreme Court of India Bar Council, also attended the National Day of Lithuania as a special guest. He was especially honoured by the Minister of Equality Mr Sheikh Al Nehan on the occasion.
---