The India-UAE Business Summit, held in Indore
07-09-2023 12:45:51
By :
Hariom Tyagi
---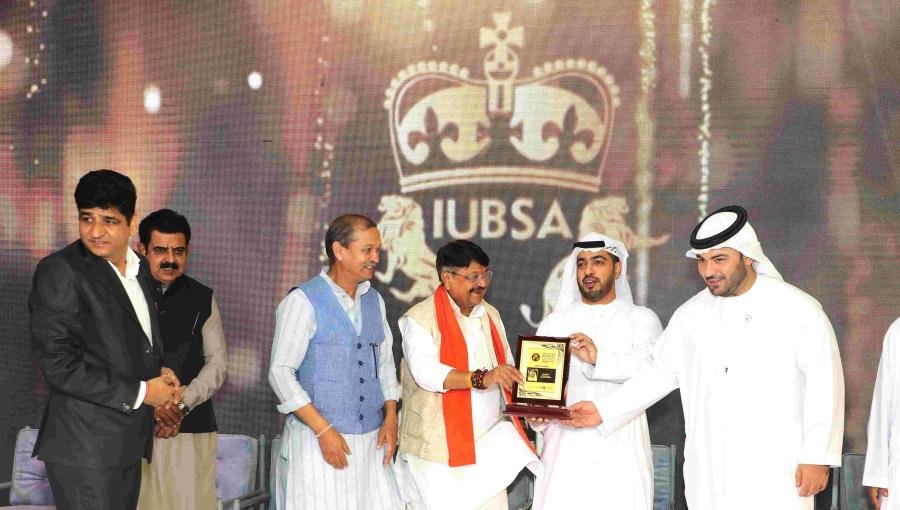 The India-UAE Business Summit, held in Indore
The active participation of notable figures from both regions. Key attendees included Kailash Vijayvargiya, the BJP National General Secretary, Om Prakash Saklecha, a Madhya Pradesh Cabinet Minister, Shankar Lalwani, a Member of Parliament, and Sheikh Majeed Rashid Al Mualla from the United Arab Emirates.
This summit, in its 7th edition, marked a significant collaboration between these dignitaries and prominent Indore-based businessmen. Over twenty individuals were recognized for their contributions, and discussions were centred around resolving past trade-related issues.
The recent meeting between Prime Minister Narendra Modi and the UAE President has accelerated trade between the two nations. Plans include enabling currency-based trade between India and the UAE, integrating the Unified Payments Interface for India (UPI) with the UAE's instant payment platform (IPP), and targeting an ambitious Rs 8000 billion in bilateral trade. This summit played a pivotal role in advancing these goals.
MP Shankar Lalwani's efforts were instrumental in hosting the India-UAE Business Summit in Indore. The finalized Comprehensive Economic Partnership Agreement (CEPA) between India and the UAE ensures zero customs duty for domestic products such as textiles, agriculture, dry fruits, and jewelry when exporting to the UAE market. This event fostered collaboration between policymakers and business leaders from both countries, benefiting entrepreneurs on both sides.
During the summit's concluding session, awards were presented to individuals who have made significant contributions to inspire others.
Kailash Vijayvargiya, the BJP national general secretary, assured attendees that India's economy would remain resilient despite global economic challenges. He emphasized India's status as the world's fastest-growing economy and a premier investment destination.
Om Prakash Saklecha, the Madhya Pradesh cabinet minister, commended the program's organizer, Hariom Tyagi, for promoting investment in Indore. He encouraged investments in green energy production, recognizing its future importance.
MP Shankar Lalwani, Chairman of Invest Indore, expressed the summit's primary objective of attracting investments to Indore, Madhya Pradesh. He envisioned an era of substantial capital investment opportunities in the region and highlighted the program's role in fostering cooperation between Indian and UAE-based businesses.
Sheikh Majeed Rashid Al Mualla, CEO of Company Kabir, extended a warm invitation for Indian businesses looking to operate in the UAE, offering cooperation and support.
Dr. Hariom Tyagi, the event's main organizer, expressed his gratitude to the royal family members from the UAE who attended, marking a significant moment for Indore. He believed that the summit would facilitate seamless business interactions between Indore and the UAE, ultimately boosting trade between Dubai and Indore.
The summit concluded with a celebratory dinner, further fostering relationships and opportunities for collaboration.
---