The Tallest Residential Project
19-01-2022 17:04:34
By :
Hariom Tyagi
---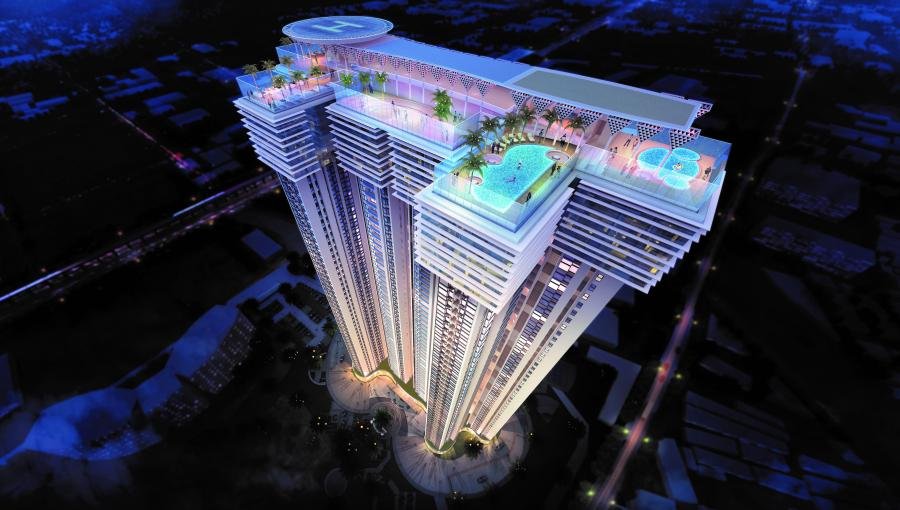 The Tallest Residential Project
Uber-Luxury Living To The Garden City
With its partnership with global luxury brands and led by realty marketing and strategy specialist Xanadu Realty, the 50-storey tall Presidential Tower is being lapped up by the crème de la crème of the garden city with sales touching unmatched industry levels of Rs. 45 crores in the last 2 months.
19th January 2021: The Presidential Tower, a super-luxury 50-storey residential project next to Rajajinagar, is getting ready to redefine the Bengaluru skyline with a massive 40,000sq.ft. Clubhouse on the rooftop with best-in-class amenities overlooking the city.
The project boasts of its associations with global brand partners. The rooftop clubhouse has been designed by internationally renowned British design firm Llewelyn Davies. From enjoying a hot cup of coffee in the rooftop cafeteria with twilight views of the Nandi Hills to a relaxing swim in the infinity pool on the 50th floor, the Presidential Tower is truly redefining luxury living experiences in Bangalore. The Presidential Towers have attracted the attention of the city's well-heeled families, along with business and corporate communities.
Speaking about the project, Mr. Vikas Chaturvedi, CEO, Xanadu Realty, "This project caters to the global Indian elite ranging from the top management of Multi-National Corporations, Industrialists and new-economy entrepreneurs who are looking for a high-profile address to match their global lifestyles. Apart from being a luxury residence matching the finest residential living standards anywhere in the world, The Presidential Tower is redefining the meaning of 'luxury' in the Bengaluru market with several high-end, world-class amenities".
The Insignia Collection
The Presidential Tower has recently launched a super-premium collection of only 12 units of designer homes on the 35th to 40th floor with a global home interior designer, Paul Group Design.
Located on The Golden Mile of Rajajinagar, The Presidential Tower will encompass 352 residences with 3-bed Solitaire Residence or 4-bed Palacio Residence in Bengaluru's tallest residential tower in a sprawling 5.2 acres of land. The project has completed the 42nd floor in the first week of January 2022 and soon will be the tallest structure in Bengaluru. Once finished, this will be the only 50-floor tower in Bengaluru.
Brand Partners
The Presidential Tower has partnered with several global luxury brand partners providing award-winning luxury services to residents. These include Quintessentially, a global concierge services company based in the U.K.; Chisel, a premium Indian health and wellness brand; U.K. based home-automation brand Hogar and Sumai doors, to name a few.
Association with Xanadu Realty
The Tower is being constructed by city firm Best Golden Developers Pvt. Ltd. (BGDPL) in partnership with Hong-Kong based construction firm CNTC which is well known in global property circles as the builders of some of the tallest residential and commercial towers in Hong-Kong, Shanghai. BGDPL had tied up with realty consulting and marketing firm Xanadu Realty last year to market this project. Xanadu redesigned the customer experience at the sales site, bringing in a luxury hospitality experience and marketing the tower through a series of campaigns under the theme of 'Life Above-It-All'.
"I am glad that we partnered with Xanadu Realty. This project will be a stepping stone for the future of luxurious housing in Bengaluru. We strongly believe that together we will be able to come up with more exciting and fruitful projects like this, which will provide the much-desired lifestyle that a luxury home buyer seeks," said Mr. Sanjay Raj, Co-Founder, Best Golden Developer Private Limited
"We at Pidilite C-Techos are delighted to introduce C-Techos walling technology to The Presidential Towers, which is an innovative solution to create partition walls that provide comfort, flexibility, and resistance to earthquakes," said Mr Vageesh Patil, Director, Pidilite, C-Techos Walling Limited.
"The Presidential Tower is a landmark residential project in Bengaluru, and we are delighted to be a part of their journey. Quintessentially is a pioneer in the luxury services industry, and this is a befitting partnership." - Mishti Bose, Group CEO, Quintessentially Lifestyle.
Mr. Jaspreet Singh - Vice President, Hogar said, "Smart touch panels that emulate the walls they are placed on, insert modules that turn any switch to a smart switch, a smart door lock with 5 way unlock and a smart controller that controls an array of smart home devices seamlessly are some of the innovative solutions that we bring to the customers."
"We are happy to provide 7-star fitness & wellness facilities in this project that match the profile of customers and their expectations," said Ms. Satya Sinha, Founder & Managing Director, Chisel.
---