These Tourist Places that will bring you closer to nature in Himachal Pradesh
21-05-2021 13:26:06
By :
Shrishti Nagar
---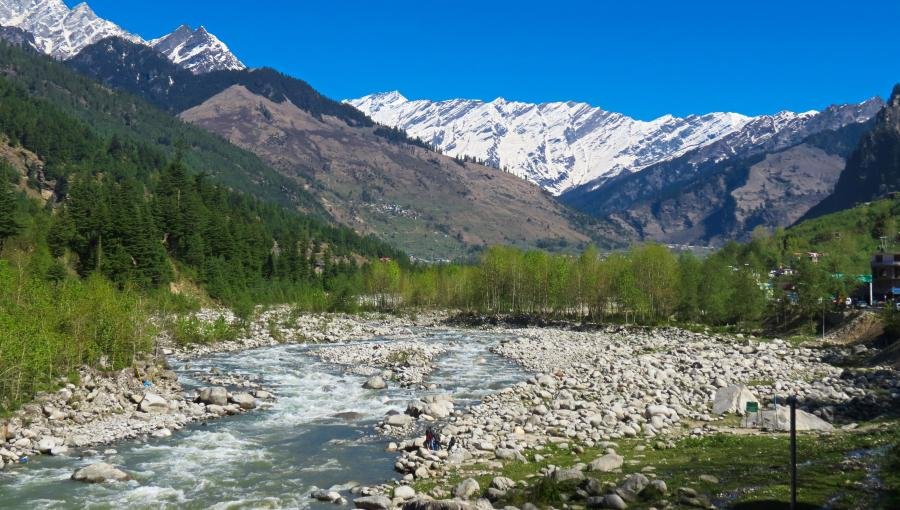 ---
Himachal Pradesh is a very renowned state of India which is known for its colossal beauty, tourist destination and its attractive places. Himachal has a special place in the heart of the tourists visiting India. Its serene lakes, high mountains and ancient temples are bound to captivate their attention. The striking beauty of Himachal with its high valleys and hills provides peace to the people visiting here. Himachal Pradesh is bordered by Uttaranchal in the east, Jammu and Kashmir in the north, Punjab in the west, Uttar Pradesh in the south. The production of apples is quite high in Himachal Pradesh, due to which it is known as the state of Apples. The flattering environment, scenic landscapes, colorful culture, adventure sports, sightseeing and a variety of fairs and festivals are very special. Himachal Pradesh is one of the most preferred destinations for tourists as well as pilgrims. The summer season is considered the best time to visit Himachal Pradesh which starts from the month of March and ends in June. If you live in a warmer place in the country, then traveling to Himachal Pradesh in summer can be a surprisingly pleasant experience. Travelers can enjoy trekking, paragliding, camping, hot air ballooning and water sports during the summers.

Shimla
Shimla is the capital city of Himachal Pradesh and is also one of the most popular hill stations in northern India. Mall road, toy train and colonial architecture of Shimla are very popular among tourists, honeymooners and families visiting here. Shimla is positioned at an altitude of 2200 meters. Amidst beautiful hills and mystifying forestry, Shimla is one of the most beautiful places in India. It has many historical temples as well as colonial style buildings. Shimla was called the erstwhile summer capital of British India and the captivating natural beauty and atmosphere of this city could compel any tourist to come here again.
Manali
Manali is situated between the snow capped slopes of the Pir Panjal and Dhauladhar ranges. It is situated at an altitude of 1950 meters above sea level, which is a part of Kullu district of Himachal Pradesh. Manali is an extraordinary natural site with its lush green forest, meadows speckled with beautiful flowers, blue streams and a relentless scent of freshness. It is a paradise for lovers and lovers of nature. From the museums to the temples, from the thrill of the river to trekking trails, from the villages to the bumpy lanes at this hill station, it attracts tourists. The sound of the flowing water of Kullu River and the sound of birds will mystify you.
Dharamshala
Dharamshala is located at a distance of 17 km from Kangra. It is considered to be the gateway to the Kangra Valley. The snow-covered Dhauladhar mountain range here makes this place extremely amazing. Dharamshala is also known as the holy residence of the Dalai Lama. The city is divided into upper and lower divisions with varying elevations and peaks. The city of Dharamshala at its lower and upper division is known as McLeoad Ganj. Being a Tibetan hub, Dharamshala is a very popular place to learn about Buddhism and Tibetan culture.
Spiti
The Spiti Valley is surrounded on all sides by the Himalayas, and is situated at an altitude of 12,500 feet above sea level. The cold deserts of the Spiti valley, snow-capped mountains, winding roads and picturesque valleys excite the tourists visiting here. It is one of the places in Himachal Pradesh that receives sunshine for only about 250 days a year, which makes it one of the coldest places in the country. You can go by motorway only during the summer days and this place is covered with thick snow for about 6 months of the year.
Kasauli
Kasauli is a small city in the southwestern part of Himachal located on the lower banks of the Himalayan Mountains. It is a hilly town situated on the way from Chandigarh to Shimla. It is an ideal peaceful place away from the crowds of cities. It is situated amidst the beautiful deodar forests and is specially known for magnificent Victorian buildings built by the British. The region is home to many endangered species of flora and fauna in the dense forests. Kasauli's serene environment makes this place one of the most special tourist destinations of Himachal.
Kinnaur
Kinnaur is also known as the "Land of God" which is located about 235 km away from Shimla. It is quite famous for the beauty of its lush green and Rocky Mountains. It shows the remarkable existence of a different kind of culture comprising of the brotherhood of Hinduism and Buddhism. Whenever Hindu tourists come to this place, they definitely go to visit the famous Kinnar Kailash. It is said that Kinnar Kailash belongs to Lord Shiva and there are also the stories about its relation to the Pandavas. There are multiple old Buddhist monasteries and temples in Kinnaur nearby which have their own significance and are also worshiped by Buddhists.
Mandi
Mandi is a historic city situated on the banks of the Beas River. It has long been an important commercial center. It gets its name as the sage Mandava is said to have meditated here. The city of Mandi is rapidly developing but it still retains its original charm and character. Mandi is famous for its 81 old stone temples and exquisite carvings, which is why it is popularly called the 'Varanasi of the Hills'.
The city has noteworthy examples of old palaces and 'colonial' architecture. The temples of Bhootnath, Trilokinath, Panchavaktra and Shyamkali are most famous in the Rewalsar region of Mandi. The International Shivaratri Fair at Mandi is a major attraction of the region every year that is a weeklong. The Shivaratri fair attracts tourists as well as locals in cultural events such as exhibitions, exhibitions, games etc.
Kufri
Kufri is one of the most sought after holiday destination in Himachal. Kufri is located about 10 km away from Shimla. If you are in transit to Shimla then you should definitely go and visit this place. Due to the high altitude of Kufri, snow is seen everywhere during the winter. Although there is not much to see in Kufri, but the temples and serene and mystifying views here make this place stand out. Kufri is well-known as a support base for tourists visiting Shimla, hence it is relatively crowded.
Kullu
Kullu is a popular tourist destination of Himachal Pradesh which is very often associated with Manali as usually tourists visiting Himachal visit both Kullu and Manali together. It is an open valley with its panoramic views and grandiose hills covered with pine trees. Kullu is situated at a height of 1230 meters which is a delightful place for nature lovers. This place is also famous as it offers a variety of adventure sports to visiting tourists. Raghunath Temple and Jagannathi Devi Temple are two very famous religious sites of Kullu.
Palampur
Palampur is a very exceptional tourist destination of Himachal Pradesh which is surrounded by pine forests and tea plantations. Palampur city has many rivers and is also known for its amazing confluence of water and greenery. Situated amidst the majestic Dhauladhar Ranges, Palampur is famous worldwide for its tea gardens and good quality of tea. Palampur was first seen by the British after which it was transformed into a center of trade and commerce. The Victorian style mansion and palace located in this city looks very beautiful.
---