US hits N Korea with new sanctions after missile tests
13-01-2022 10:26:34
By :
Twinkle Singh
---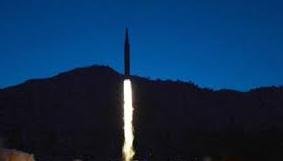 The US has imposed sanctions on eight North Korean and Russian individuals and entities for their support to Pyongyang's ballistic missile programs."Today's actions, part of the United States' ongoing efforts to counter (North Korea's) weapons of mass destruction and ballistic missile programs, target its continued use of overseas representatives to illegally procure goods for weapons," said Brian E. Nelson, Under Secretary of the Treasury for Terrorism and Financial Intelligence, on Wednesday.
"The DPRK's latest missile launches are further evidence that it continues to advance prohibited programs despite the international community's calls for diplomacy and denuclearization," he further said.
Besides, sanctions by the US Treasury Department on North Korea, the US State Department has also imposed sanctions on "one (North Korean) individual, one Russian individual, and one Russian entity that have engaged in activities or transactions that have materially contributed to the proliferation of (weapons of mass destruction) or their means of delivery by (North Korea)," said Secretary of State Antony Blinken.
This comes after Pyongyang tested new missiles within two weeks.
CNN quoted South Korea's Joint Chief of Staff this week's missile test was more advanced than last week as it reached a velocity of more than 10 times the speed of sound.
---