Webinar on Covid 19 Challenges and Opportunities organised
13-05-2021 13:32:43
By :
Shrishti Nagar
---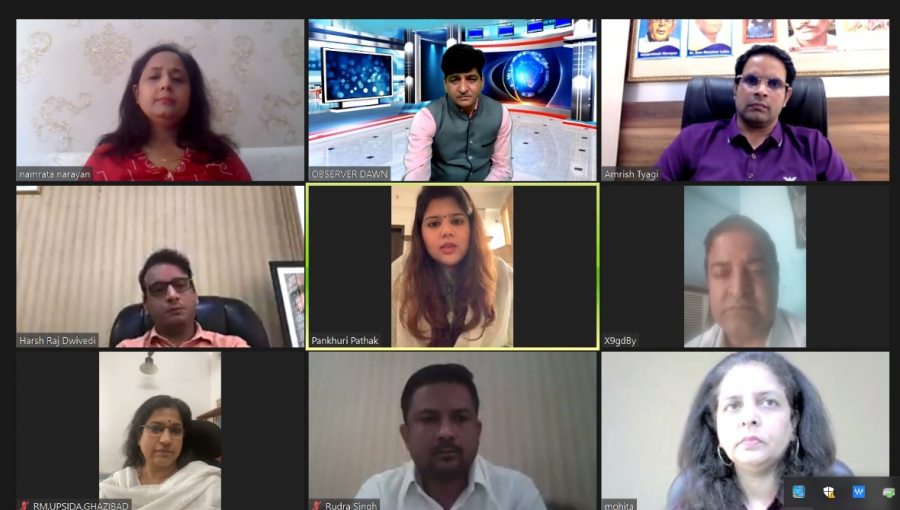 ---
A webinar was organized on 12th May 2021, under the auspices of Observer Dawn, to find a solution to the Covid-19 crisis in Gautam Budh Nagar. It was graced by significant personalities like Harsh Raj Dwivedi, President of HRD Group, Rudra Pratap Singh, President of IYUVA, Vice President of Congress Uttar Pradesh, IMA Secretary and Chairperson Tirupati Eye Hospital Noida Dr. Mohita Sharma, AGM UPSIDA Smita Singh, Rama Foundation President Namrata Narayan and Amrish Tyagi Former President of Shyama Prasad Mukherjee, Delhi University.
In this webinar, Harsh Raj Dwivedi said that today is the time that we all have to help by holding each other's hand. The situation has become helpless; the government should clarify its plan on education. Along with this, the small hospitals will have to come forward in the treatment of Covid, so that the middle class and lower class can also get affordable treatment. At the same time, he further informed about an association in Noida which will be launched on 30 May 2021. This association will work for the society in Noida and it will work selflessly for the people.
Dr. Mohita Sharma raised the issue of the vaccine. There is confusion among people due to the non-availability of vaccines. Dr. Mohita also commented on the response of the Serum Institute and that they have given up on the supply of vaccines.
Rudra Pratap Singh, national president of IYUVA said that the announcement of vaccinations of 18 to 45 years old is a hasty decision, it should be repealed with immediate effect and the government should ensure the availability of vaccinations.
Pankhuri Pathak said that the government should clearly state its plan to deal with Covid and decentralize the vaccination. Dr. Hariom Tyagi, Group Editor of Observer Dawn, hosted the webinar, thanking everyone for the same.
---